Wednesday Evening Race Report - Bottle Pursuit
Published 14:50 on 10 Jun 2019
HRSC Wednesday – The Bottle Pursuit.1 May 2019
It was a grey evening, with the wind predicted to be 6-10 knots from SW – W, as the Race Team left the Hamble to run the Bottle Pursuit. The Bottle is the first of three pursuit races held throughout the season and seventeen boats came to the start line at their appointed times. There were two new to the club boats that joined in the fun. The SB20 (3751), entered by Simon Russell and driven by Ben McGrane and the First 40 Sailplane owned by Rob Bottomley. Rob had joined the club on Wednesday so that Sailplane, that had recently won Class1 in the Warsash Spring Series, could enter the Bottle Pursuit. Rob himself was not present as he had been dispatched to Yorkshire to collect Rose, a black Labrador puppy. Also out for the first time this season, though not new to the club, was La Nef IV, John Noe.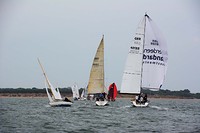 With most boats starting alone at their allotted time, things can be a little uninteresting during the start sequence. However, Forethought of Gosport, Mike James, managed to liven things up when X128, Little X, Gary Rossall and X124, Kathleen, Mos Fitzgerald, manged to shut him out at the Bald Head start. Sailplane, arrived just before their 18.53 start time and then proceeded to hunt everyone down. The course was a short beat to Hook, followed by reach to club2class where a series of loops to Velociwrapgraphics and back preceded the homeward fetch to Hamble Point. RO Mike Dellar had determined that the 5 nm course would bring everyone home at about the same time.
The actual wind on the night was SW and 10 – 14 knots, which meant that the XOD's would be difficult to catch, though Fritha, Folkboat, Bob Allen was determined to try. Midnight Cowboy, Steph Merry, normally scratch boat, had the unusual experience of being overtaken by the rapid Sailplane. So hard were they trying on board the First 40 that they stripped the foot tape off the spinnaker on the second run, safe in the knowledge that Rob and Rose would never know until they read this report. There was considerable conjecture on the CB as to whether Sailplane would charge though the entire fleet on their first outing. As it turned out the wind held up, and Kathleen crossed first just ahead of Little X. Fritha, sneaked in third as the First 40 loomed behind her. Sailplane would have to wait for her first podium at the club.
(missing upload 464696) )646698;200(
In a testament to the handicapper and RO, places 2 – 5 were covered by 40 seconds and the whole fleet returned within 6 minutes of the first boat home. It worth mentioning that M'Enfin!?, Chudziak and Mallas, who last week won Class 1 in Early Bird Series, came home last. I'm not sure what the French for sandbagging is?
Next week sees the start of the A Series, and of course summer sailing.
Trevor Pountain
Last updated 14:50 on 10 June 2019