Hamble River Sailing Club
Published 16:25 on 23 Mar 2022
Saturday was the 96th Hamble River Sailing Club AGM. Steph Merry our outgoing Commodore was presented with a token of the club's thanks, for her amazing stewardship. Her tenure was pre Covid, during Covid and post Covid.
Steph was also set the challenge of naming the latest club rib. We wish Serena Alexander, all the best and plenty of success as the new Commodore. Serena grew up sailing dinghies on the South Coast.
Sunday saw a flurry of the club's willing volunteers eager to assist at the annual Warming Pan Event. From bacon butties, beach duties, mark laying and jacket potatoes for lunch they were made the event a success for the 26 participating boats. Fifteen boats went outside the river to do three races in quick succession. Inside the river the Foxers were eleven in number. The Foxers' had combined their 2021 Winter Championships with the Warming Pan, James Ross winning the six races with one discard.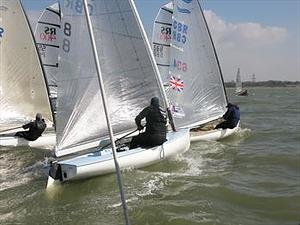 Last updated 14:13 on 25 April 2022