HRSC Centenary Challenge Trophy in Oppies - Sunday 1st September
Published 09:23 on 10 Sep 2019
HRSC Centenary Challenge Trophy in Oppies - Sunday 1st September

Report by Jonty Sherwill
The penultimate event in Hamble River Sailing Club's Centenary celebrations featured team racing in miniature Optimist dinghies, not for children but for adults! The HRSC Centenary Challenge for the Joint Services trophy owned the River Hamble Combined Clubs, invited all the river based sailing clubs to field teams of three flag officers, present or past.
As it turned out and despite a perfect forecast of a light breeze and sunshine plus a brimming high tide there was some reluctance at the thought of risking a ducking and worse still, humiliation after years of dignified service. Various excuses were proffered including a cricket match on the Brambles Bank but after a motivating email the night before, by Sunday morning three teams were raring to go even if it took some last minute relaxation of the eligibility requirements to get things rolling.
The approach of each team varied, with the youthful Warsash Sailing Club trio arriving bedecked in wetsuits while others chose shorts and t-shirts, and one member of the HRSC team donned a survival suit in anticipation of helicopter rescue!
In the presence of the ever enthusiastic HRSC Commodore Steph Merry (without doubt the perfect selection for the centenary year) the PRO Kathy Smalley assisted by husband Rupert anchored the club's committee boat in the lagoon just down river of the club and set a windward-leeward course of 150 metres top to bottom. It looked ideal but the light and fluky north-westerly breeze was swirling around the clubhouse just upwind of the race area and would make tactical decisions tricky with big gains to be made and lost.
It soon became clear that the Warsash team was better prepared for the challenge and with only 3 square metres of sail some other heavier skippers found themselves languishing way behind. Nonetheless there was some close combat at mark roundings that the sport's rule makers might wish to reflect on, for example is Rule 21(b) intended to be self-adminstered as a carte blanche to touch a mark and press on without a penalty turn?!
Good humour prevailed throughout and with no capsizes as had been predicted all participants returned safely to the dinghy park where Oppie chief honcho Richard Foulkes instructed all good 'children' to unrig and tidy their dinghies away before being allowed to head to the bar for a well-earned Vimto and prizegiving, where the Warsash team was presented the silver trophy and bottles of prosecco were presented to each of the nine skippers by River Hamble Combined Club's committee member Derek Hand.
Results:
Warsash SC 22 points (Kate Cumming, Andy Le Grice, Roger Cerrato)
HRSC 55 points (Katie Bewes, Mike James, Jonty Sherwill)
Royal Southern YC 58 points (Maggie Widdop, Pat North, Ken Munro)
Report by Jonty Sherwill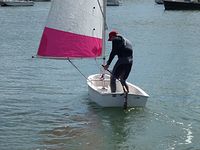 Last updated 09:23 on 10 September 2019