Home
/
News
/
HRSC A1 Race Report 10th May 2017
HRSC A1 Race Report 10th May 2017
HRSC A1 Race Report

The Early Bird Series at Hamble River Sailing Club had been a great success this year, not least the race reports, so it was with some trepidation that the new race officer is putting pen to paper.
With low water at 5pm there were very few marks available to use and the wind was forecast to back from south east to east at some point during the race. We therefore hedged our bets by setting a course which was a beat, fetch, reach, run in the current wind, becoming a fetch, beat, run, reach if the wind veered. An extra sausage was provided for the bigger boats. The first mark was Hamble Winter Series, or Deck to the old folks, after which the tide changed from being predominantly up and down Southampton water, to more East-west Solent based, so there were lots of tidal options to consider.
The sun shone, the seas were flat, and it really was a beautiful evening for a sail. First boat home was X166 choosing to committee boat end of the line followed by Cockleshell who chose the opposite end, so it must have been a pretty well-laid finish line (well done Rupert). The Impalas in class 2 finished in pairs with Vlad the Impala being top dog, and Night Jar continued her winning ways from the Early Bird Series winning class 1.
Back at the clubhouse the supper was delicious.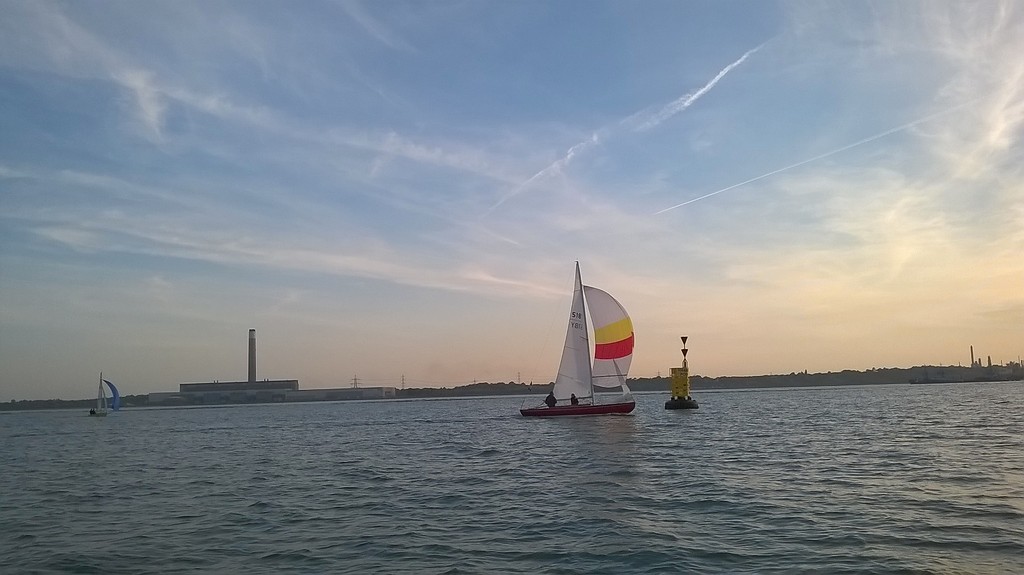 Last updated 13:40 on 22 March 2018